Islamabad is considered as the gorgeous city of Pakistan. It is one of the most fascinated cities in the world that is located 518 meters above the sea.  This city is well known as the valley of mountains. There are many attractive mountains in Islamabad. The weather condition of Islamabad is striking particularly in the winter season plenty of visitors from Pakistan and foreign countries come to Islamabad to see the magnificence of nature.
There are too many attractive places in Islamabad. We have listed some of the wonderful attractions in Islamabad for you:
Pakistan Monument
Pakistan Monument which is regarded as the National Monument of Pakistan is located in Islamabad. It signifies the history, civilization, and values of Pakistan and mostly emphases on historical events of the Pakistan Movement. This monument was constructed as a compliment to the people who slaughtered their lives for the freedom of Pakistan.
The monument is designed like a blossoming flower having an area of 28000 square meters. It has four big petals and three small petals. The big petals which are made of sandstone indicate four provinces while the small petals represent three territories of Pakistan. The paintings on the petals of a flower-shaped design feature Pakistan's cultural tradition and momentous events of the Pakistan Movement.
Saidpur Village
Saidpur village is Located on the foothills of the Margalla mountain range. This is a very old village from the Mughal-time and has leftovers of many civilizations. It presents an eye-catching vision, especially in the morning and evening. The village shows a perfect combination of conventional values with the present lifestyle. You can easily find restaurants and cafes in this village while keeping the legitimacy and ritual. It is one of the preferred picnic places in this city for both native and overseas visitors. It is an excellent place to visit in Islamabad.
Daman-e-Koh
Daman-e-Koh is definitely a place where natural and man-made magnificence fascinates the mind of every visiting person. It is in the center of Margalla hills about 3000 feet on top of the sea level and 1000 feet from the federal capital. It has two viewpoints that are easily reachable by a zigzag road or by using walking tracks. Daman-e-Koh is a well-known destination for visitors. This is a breathtaking place to hang out with friends and families, where the cool wind is blowing across all the time and natural surroundings with fresh air.
Shakar Parian
Shakar Parian is located in Islamabad near zero points. It is one of the oldest picnic points in Islamabad which is very eminent and stunning. You can see an attractive park in these hills which is one of the major attractions of this place. It has two viewpoints. The east viewpoint has an attractive park with pine trees whereas the Pakistan monument is on the west point. It is an excellent place to view Margalla hills, Murree and Rawal Lake.
F-9 Park
F-9 Park which is also called Fatima Jinnah Park is located in the f-9 sector of Islamabad. Michael Japero was the designer of this park. This park is full of greenery with a steel fence boundary. It has a massive area of around 4 square kilometers which is normally used for sports activities. Megazone complex which is full of facilities like a swimming pool, snooker, table tennis, and the food court is also a part of this attractive park.
Rawal Lake
Rawal Lake is not less than a heaven on earth because of its gorgeous view. This artificial lake is located in the separate part of the Margalla Hills National Park on an area of 8.8 sq km. This lake is a nice place for boating, sailing, kayaking, bird watching, fishing, picnicking, and hiking with friends. It has flowering trees, good-looking blooms, and green grass that add a lot of value to this lake.
Pir Sohawa
Pir Sohawa is a nice picnic place for the local person which is situated near Islamabad at a height of 5000 feet. This is an incredible place to see the delightful view of Islamabad during day and night. It is an ideal place to get pleasure from picnics in the forest while listening to live birds and watching wildlife. In the monsoon season, the forests in the hills of Pir Sohawa turn to green after the rainfall which creates an appealing view for visitors. Pir Sohawa is a perfect location for hiking trips from the base of Margalla Hills.
Orchid (Kachnar) Park
Orchid (Kachnar) Park is in sector I-8 Islamabad, Pakistan. This is one of the eye-catching parks in Islamabad with hundreds of daily frequent visitors. People of all age groups from kids to elders visit this place because of its extraordinary beauty. It has 2 specific tracks for jogging and cycling spread all around the park. The tracks are full of Kachnar trees that provide such an astounding view and atmosphere to the Orchid Park in spring. You can also enjoy football, volleyball, cricket and outdoor gymnastics in this park.
Golra Sharif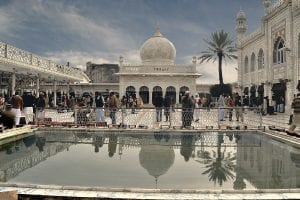 Golra Sharif is an old town in Islamabad near Margalla hills. It is approximately 1710 feet above the sea. This place has gotten too much importance because of Mehar Ali Shah Tomb. This tomb is visited by a number of people from different cultures all around the year. A renowned railway station and heritage museum are also there, which was built in British time. The railway station links to Peshawar, Kohat, Havelian, and Multan.
Simly Dam
Simly Dam is almost 260 ft high dam which is located 3o km east of Islamabad. It is a famous picnic place whose views can be recorded from ban Karor road. This beautiful lake has boats for rent and excellent fishing opportunities. You can enjoy yourself with your family and friends to have a relaxing and pleasant time here. The most excellent time to visit this place is from April to September. You can also have fun with angling, boating, and fishing in this lake but for fishing, you need to have proper permission from CDA Islamabad.