The idea which naturally emerges with the wedding plan is a honeymoon plan as honeymoon trips nowadays have become a prevailing trend and weddings are truly speaking, seem incomplete without honeymoon trips. But, when it comes to a honeymoon plan, a question usually arises, "where to go?"
Why ponder over it so much? Explore the world's beautiful country "Pakistan".
Pakistan is a land of wonders and romantic spots. The beauty from heaven descends here from above. A large number of heavenly beauties which can put spell on you and make you celebrate your each and every moment remarkably wonderful are enlisted below:
1. Murree
Murree undoubtedly is one of the most popular, most visited beautiful honeymoon spot. It is famous for its height and is fully covered with beautiful green trees.
People visit and couples plan for honeymoon trips to enjoy its snow falling in the winter season. In summer when the prevailing hot weather has bad effects on the mental state and lifestyles in the rest of the country, Murree's pleasant weather leaves congenial effects on behaviours.
It is situated in the Galyat region of Pir Panjal Range, in Rawalpindi District of Punjab. It has 7 spellbinding villages and 4 beautiful towns in its surrounding.
Image Credit: Allevents
Adorable restaurants for couples and visitors are located on the famous Mall Road. Mall Road is also famous for different unique and artistic objects for shopping. This area is always full of excitement. It offers many recreational activities with outstanding tourists' spots.
2.Patriata
Patriata is another hill station located 15km South-east of Murree hill. The visit to Murree is incomplete if one doesn't visit the spot and witness the eye-catching natural beauty from the chair lifts there that run for 7kms. The astonishing scenes from chair lift are breathing taking.
Image Credit: Booking
3. Abbottabad
Abbottabad is the capital city of Abbottabad District in the Hazara region situated in the eastern KPK, Pakistan. It lies 120 km north of Islamabad and Rawalpindi, and 150 km east of Peshawar.
Abbottabad is considered to be one of the best honeymoon spots for its pleasant weather, beautiful and popular hill station. The city is ranked high for its residential services, restaurants, resorts, and leisure points. It also holds pride to have historical sites.
Image Credit: Travel Jumia
4. Nathia Gali
Nathia Gali is a mountain resort town or hill station in Abbottabad. It is located in the mid of the Galyat range, where we can find a remarkable range of hill-stations, closely attached to each other. It is covered with amazingly impressive scenic beauty.
Image Credit: TravelCo
5. Miranjani Top
Miranjani is the highest peak in the region. It is located on the way to Thandiani and Nathya Gali. Climbing on it is not only adventurous and fun but also exhausting.
It is full of bushes and berries, covered with unique beautiful flowers which creates a charismatic scene. The air of the spot is quite refreshing and has profound effects on individuals.
6. Thandiani
Thandiani is as cold as it's named. It is a place of peace and greenery. If you want to spend a peaceful honeymoon with a place abundant with natural beauty, head yourself here. It is 31 km from Abbottabad.
Image: Spotclicks
7. Harnoi River
It is a beautiful place; a land of Tilism (Magic) fully covered with green meadows. It is only a 15-20 minutes drive from Abbottabad. Harnoi is a famous picnic spot in the region. It is furnished with natural beauty and calm environment.
Image Credit: Croozi
8. Shimla Hill
Shimla Hill is a very peaceful place presenting an aesthetical view which invokes the artistic sense of mind. The green surroundings work as musical instruments and the soul sings.
Image Credit: Gstatic 
9. Ayubia Park
Ayubia is one of the captivating place in Pakistan. It is located in district Abbottabad. Ayubia was declared as a national park in 1984. The place is a land of beautiful mountains and trees. You can see numerous kinds of trees here. You can find many restaurants in Ayubia offering delicious dishes.
Image Credit: Pinterest
10. Kaghan valley
Almost 240 KM away from Islamabad in Khyber KPK province, another beauty is waiting to welcome the visitors named Kaghan. Thousands of tourists come to explore this beauty and to enjoy their vacations and honeymoons.

The much prominent places in the valley are :
11. Shogran
Situated on a green plateau and covered with green environment, there lies an amazing beauty of Shogran. It offers a large number of facilities to the visitors. It attracts thousands of natural beauty lovers and artists. This is the one of the most recommended place. 
Image Credit: Imusafir
12. Siri Paye Meadows
Siri Paye is one of the most beautiful and magical places situated near Shogran in Kaghan Valley and its most prominent feature is Siri Paye Lake.
It is surrounded by mountains, covered with snow and greenry. If you want to the visit to Payee Meadows, you must visit the places mentioned below: 
Makra Peak, Malika Parbat, Musa ka Musala, Siri (Paye) Lake.
Image Credit: Discoveryair
13. Babusar Top
Babusar Top is a mountain pass at the north (150 km from Kaghan Valley) connecting Thak Nala with Chilas on the Karakoram Road. It is the highest place in Kaghan. It is peacefully relaxing. Tourists can witness the wonders of Nature here.
It has many options to offer for everyone. The best time to get there is from May till September. All the modern facilities including internet are available here. This is one of the coldest places of the region so be prepared with some warm jackets. The area is most of the time closed due to heavy snowfall. Therefore it is highly recommended to visit there in the summer season.
14. Lulusar Lake
Lilusar Lake is heavenly lake flowing between the Lulusar range of mountain peaks. 
While visiting the spot, do remember that it has no hotels in its surrounding, but one can find many in Naran. The lake holds pride to have many unique kinds of birds. It is famous for the Russian birds. The birds enhance the beauty of the lake. It is recommended not to miss the chance of visiting such a miraculous spot on a visit to Naran or Kaghan.
Image Credit: World for Travel
15. Naran
Naran lies 120 Kilometers from Mansehra City and followed by a giant glacier which encaptures the visitors' attention. It's no wonder to say that the place is a wonder itself.
Image Credit: The Joshtour
16. Lake Saif-ul-Malook
It lies about 7 km from Naran Bazaar. Fairy tales are associated with this beautiful and famous lake. The story is associated with a prince (Saif-ul-Malook) who fell in love with a fairy princess (Badi-ul-Jamal). The story is described in the form of poetry. This will be like a dream to visit such a place whose stories are in the air for years. 
Multiple glaciers water gather in this lake. Rank wise, it is the 5th best tourist spots in Pakistan
Image Credit: Facebook
17. Swat valley
Swat Valley is located in Malakand Division KPK. It is famous for its outstanding natural scenic beauty and also called "Switzerland of the East". It will be an amazing experience for couples to spend their memorable time in the valleys of Swat surrounded by the green atmosphere and shiny crystal-like water.
Image Credit: ablecan 
Swat Valley has a number of places enveloped with the gracious scenic beauty such as:
Kalam Valley, Madyan, Kumrat Valley, Marghazar, Saidu Sharif, Mahodand Lake, Malam Jabba, Fizaghat, Kundol Lake
Image Credit: Facebook, Swat Valley, Dawn
18. Leepa Valley
Leepa Valley is 105 km from Muzaffarabad and it is the most amazing and fascinating place described in fairy tales in Azad Kashmir. A metalled road is connecting the Reshian Gali from the heights to Leepa Valley presenting a gracious view to the visitors.
This valley is equally attractive for domestic and international visitors. Many travel agents are offering budget-friendly travel packages here.
Image Credit: Ajktours
19. Neelum Valley 
Neelum Valley is situated to the North East of Muzaffarabad, running side by side to the Kaghan. Neelum valley is one of the amazing places in spring. It is highly recommended to couples to visit this-worldly heaven. The spot is ideally perfect for trekking.
Image Credit: Ajktourism
Some of the major attractions in Neelum valley are:
Dhani Noseri Waterfall.,Chilhena/Titwal, Kutton Jagran Valley, Keran Neelum Valley, Upper Neelum, Ratti Gali Lake, Sharda Neelum Valley, Arrang kel, Chitta Khatta Lake, Toabutt
Image Credit: Facebook, Travel Guid, Find my Adventure
20. Rawalakot 
It is a capital city of Poonch district in Azad Kashmir. It's also known as Pearl Valley because in summer the scattered almonds in the valley seem like pearls everywhere while viewing from the heights.
The most recommended time to visit Rawalakot is May till October. If you are a snowfall lover and can tolerate the extremely cold weather, you can choose Rawlakot for honeymoon.
All the services are available here in Rawlakot with other facilities from accommodation to travel.
21. Tolipeer
Tolipeer is a beautiful hill station in Rawlakot, Poonch district, Azad Kashmir. It's a marvellous contribution to Kashmir's beauty. It seems that you have reached the top of the world. The roads are rough and not well established but the place is superb.
Image Credit: Pinterest
22. Banjosa Lake
It is an artificial lake and the only planned tourist resort in Rawalkot. One of the most fascinating places, Banjosa Lake, is situated in Poonch district at 18 km from Rawlakot. The forests in its surroundings present a pleasant view of the lake. 
23. Fairy Meadows 
Fairy Meadows was named by a German climber Märchenwiese as 'Fairy Meadow' because it seemed like a fairyland. It is situated near Nanga Parbat, located in Diamer District, Gilgit-Baltistan, Pakistan.
Image Credit: PakNet
24. Hunza
Hunza is a mountainous valley in the Gilgit-Baltistan. It possesses the natural beauty which hypnotizes you. It borders with Wakhan, a passage of Afghanistan and Xinjiang of China.
Some of the best locations to see in Hunza are:
Rakaposhi Peak is situated in the Karakoram mountain range, 100 km north of Gilgit City, Karimabad or Baltit is a capital of Hunza and the most visited tourist spot, Baltit and Altit fort, situated in Karimabad, are the ancient monuments in Hunza, Attabad Lake in Gojal Valley Hunza is an appealing scenic beauty, Rush Lake lies in Nagar valley Hunza, grabs the attention of the tourists, Sost Border, a village in Gojar upper Hunza and Borith Lake in Gulmit.
Image Credit: Bucket Listly, Primetimes, Nation, Trangoadventure
25. Skardu
We have only heard about the beauty that wonders the sense. But, Skardu is the place which describes what wonder is. The beauty that makes your eyes wide open and the most romantic views of the town forces you to think if you are in heaven or on earth.
Skardu is a city in Gilgit-Baltistan of Pakistan, as the capital of Skardu District.
Image Credit: Tripadvisor
Skardu Fort, Khaplu Valley,  Kachura Lake, Shangri-La Lake, Satpara Lake, Shigar Fort,  Deosai Sheosar Lake, Katpana Lake, and Basho Valley are the prominent places in Skardu which are not only mind-blowing but surprising with their scenic beauties.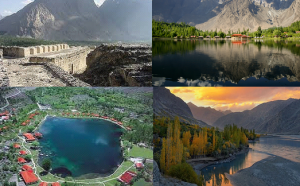 Image Credit: Ibex, Tripadvisor, Croozi
26. Chitral
A land of utmost beauty and mysterious people is "Chitral". It is the most fascinating romantic place carrying a remarkable number of enthralling spots which include:
Shandur Polo Ground, the biggest polo ground in Pakistan, Chitral Museum, carrying ethnological and anthropological objects, Tirch Mir one of the tallest peaks in the mountain range in Pakistan, Kalash Valley the most famous valley in Chitral carrying its own unique and mysterious Greek culture, Shahi Masjid, a historical monument, Shahi qila  is another historical object. These historical places have their own history, Ayun Valley a picnic spot in Chitral and the most amazing Garam Chashma, a mysterious place in the mysterious land of Chitral. Last but not least, the places which have not been greatly explored so far but present amazing views. The rare species and spices are found there. The spots are only 14 km from Chitral Valley; the places are named as Koghazi and Goleen.
Image Credit: Contentpk, Pakistan,  Today, Croozi
So guys, if you have plans for honeymoon, and you are confused about deciding where to go, don't be confused anymore. Find the best destinations here in one of the best countries Pakistan and move on.
Wish you the best!