Bridges are something that you can easily see in almost every country in the world. They are the architectural miracles that grab our attention because of their fascinating beauty. Every country has some specific bridges that are renowned for years because of their exceptional beauty like in the United States of America; you can see Golden Gate Bridge that has the honor to be represented in several movies because of its inspiring looks. It takes around four years to finish the construction of this bridge which is still in the memory of millions of people. Similarly, Tower Bridge of the United Kingdom is also an iconic bridge that is considered as the biggest and most complicated bridges of the world. This piece of art took around eight years for its construction. Harbor Bridge of Australia is also an attention-grabbing bridge which is no doubt the best place to celebrate your New Year. Every year thousands of people gather around this bridge to welcome the New Year.
Bridges are not only a way of transportation they have a lot more value than that. They show the capability and creativity of human beings because it requires extraordinary effort to build a strong bridge that can stand for a long time and bear all the troubles like floods, etc successfully.  Pakistan is lucky to have a massive list of these remarkable bridges in the different parts of the cities. These bridges are an excellent addition to the attractiveness of Pakistan and a nice place for all the adventure loving people of this country. If you are fond of visiting adventurous bridges that have the power to take your breath away for a moment with their splendid beauty than you are at the right place.
Here is the list of all adventures bridges of Pakistan
Hussaini Hanging Bridge
Hussaini Hanging Bridge is a part of the northern area of Pakistan. These regions are a highly preferred tourist destination in this country that is densely crowded with local and international tourists. This bridge is specifically made of wooden planks and ropes which makes it a unique bridge among others. It's great fun to cross this bridge, and the local people love to do this.
Tarzan Bridge
Tarzan Bridge is in Naran. Naran is one of the fascinating areas to travel and see the beauty of nature. Anyone who visits Naran always likes to view this stunning bridge because it has a magnetic attraction in it. It is also a dangerous bridge that needs a lot of courage to cross. If you like to take on the challenges in your life, then this bridge is a perfect place for you.
Deosai Bridge
Deosai Bridge is in Gilgit Baltistan. It is one of the best bridges of Pakistan that can be easily accessed from Astore valley and Skardu. Lots of people plan to visit this bridge while going towards Skardu because it adds more thrill to their trip. You can also view the beauty of Deosai Lake while crossing this bridge. It needs some courage to drive over this bridge, but it's a beautiful bridge with magnificent views.
Sialkot Bridge
It is also a nice bridge which is far from the northern areas. This bridge is also well known among people for its fog which makes it quite tough to cross it because you can't visualize things accurately.
Ishkoman Bridge
Ishkoman Bridge is in Ghizer valley. It is a valley that is renowned for its beauty. It is not less than a paradise because the view that you can have while crossing this bridge is breathtaking.
Hanging Bridge of Indus River
This astonishing bridge is in Skardu. Crossing this bridge is full of adventure, but you have to be strong enough to pass this unique bride without any trouble.
Alam Bridge
This appealing bridge is a platform that joins Baltistan to Gilgit. It is made from iron rods and wood having a length of around 300 meters. This bridge is only allowed to lightweight vehicles because it cannot carry the weight of heavy vehicles.
Danyore Bridge
Danyore Bridge is one of the oldest bridges of this country. This bridge joins Gilgit to Danyore. It is only accessible by pedestrians and motorcyclists because of the heavy winds in this area that makes it quite unsafe for heavy traffic.
Dhangalli Bridge, Dayal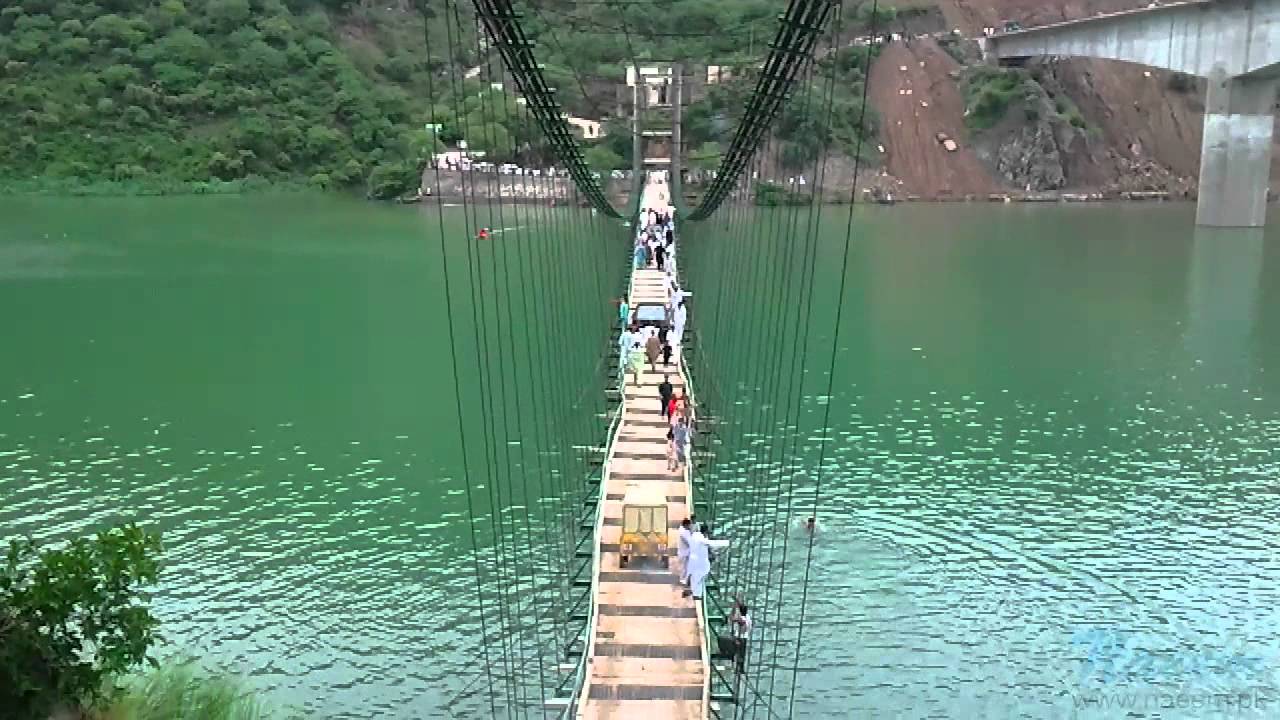 This marvelous bridge is close to the border of Pakistan and Azad Kashmir. Kashmir already is full of inspiring natural beauty, and this bridge near the border enhances its beauty. It is a real piece of attraction that is visited by a considerable number of people all around the country.
Thakot Bridge
This gorgeous bridge is at River Indus in KPK. It gives a splendid view of the river Indus which is a treat to watch. You can easily cross this bridge because it has no restriction for vehicles over it.
Ambor Bridge of Muzaffarabad
Ambor Bridge is close to Dhanni in Muzaffarabad. There are various attractive places in this city like Neelum River, Peer Chanasi, red fort, etc. This nice bridge along with other places makes it an enticing city to watch.
Kunhar River Bridge at KPK
Kunhar River Bridge is in Khyber Pakhtunkhwa. This bridge enhances the pleasant appearance of the Kunhar River with its alluring loveliness.
Bridge at Swat River
Swat River itself is a top-class place to enjoy. The bridge at this river increases the overall beauty of this place. If you ever plan to visit swat then don't forget to visit this gorgeous place which is an art of nature.
Now you get an idea regarding various adventurous bridges of Pakistan. The list of bridges that we have added above clearly shows that Pakistan is not only a country with colossal mountain, Stunning rivers, striking beaches but also has some outclass bridges as well. If you haven't enjoyed crossing any of these bridges yet, then you should get up after reading this article and make a plan to cross these adventurous bridges with your friends.