Karachi hosted the leading international tourism expo of Pakistan, Pakistan Travel Mart 2019 from 8-10 October 2019. Domestic and international travel bodies came under one roof to showcase their services in the field of traveling and tourism. The event focused on promoting inbound, outbound and domestic travel across Pakistan.
The Pakistan Travel Mart 2019 was a convention among all stakeholders traders and an opportunity to conduct business with the leading international exhibitors. More than 150 exhibitors showed their presence at the event.
Ghoomlo appeared as an emerging business with its Travel and Tour services for the first time at PTM 2019. The unprecedented success with a high appreciation ratio among the participants, Ghoomlo enjoyed presenting its services for the promotion of the tourism sector in Pakistan.
Ghoomlo came up with its travel guide services which are working as a bridge among tourists with travel agencies as well as the mobility and hospitality services providers which include transport industry, hotel, and resorts,  where they can boost their business with Ghoomlo.
Mr. Sarfraz Abbas and Mrs. Sadaf Abbas, the Co-founders of Ghoomlo had conversations with local and international travel bodies for promoting local and international tourism and the very need to portray the soft image of Pakistan across the globe. They also visited the different stakeholders' booths and shared the joy they feel when they meet the unspoken needs of their clients after going the extra mile to discover what they really desired.
In a conversation with the members of Sindh Tourism Development Corporation (STDC), Gilgit Baltistan Tourism, KPK Tourism, and Punjab Tourism, Ghoomlo further assured that Ghoomlo could work along with them for data sharing, promoting their events and mission via the platform of Ghoomlo.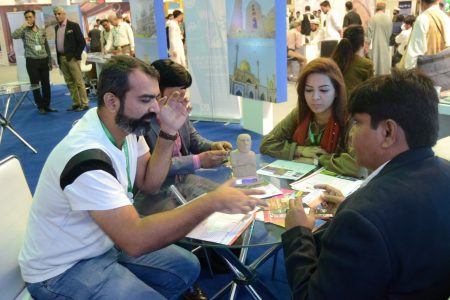 Thai, Malaysian, Srilankan Azerbaijan and Indonesian embassies' high officials appreciated the vision and the initiatives of Ghoomlo. Mutually the parties realized the importance and the need to work together. The meetings were the opportunity for an exchange of mutual business and cultural relationships.
The country manager Jordan Aviation, Ashraf Z. T Zahedah appreciated the efforts made by Ghoomlo to promote tourism in Pakistan. He further said that Ghoomlo took the initiatives in the right direction. He sent his best wishes to Ghoomlo team.
Manager Strategy and Development of Saudi Gulf Muhammad Nadeem Riaz sent his heartily wishes to the Ghoomlo and encouraged Ghoomlo team's efforts.
The event was overall a successful step toward building a travel relationship between  Pakistan and the rest of the world. Ghoomlo has remarkably contributed in constructing a positive and friendly image of Pakistan in the tourism sector worldwide. 
Did you happen to visit PTM 2019? How was your experience? Do let us know in the comments below.