Karachi is the largest city of Pakistan. It is considered as the city of lights and is rich with astonishing historical buildings. This city is a multicultural city with various different kinds of people of different ethnicity, languages, and cultures in it.  It is, in fact, a must-visit place for people who are curious about historical architecture.
If you have an intense interest in historical architecture, then you must visit these astonishing architectural
wonders listed below.
1- Wazir Mansion
It is the place, where the birth of renowned leader Quaid-e-Azam took place and he lived around 16 years of his early life there. The parents of the great leader Muhammad Ali Jinnah; Sakina Bano and Mr. Jinnah Bhai Poonjah moved to Karachi after the year of 1874 from their traditional village Paneli and got a 2 room apartment at this place. It was an exceptional day of December 25, 1876, when the founder of Pakistan came to this world. His parents and other family members were still living in this mansion when Quaid-e-Azam went to London in 1892, to get a higher education. The Pakistani Government named it as Wazir Mansion the Birthplace of Quaid-e-Azam, in order to increase the worth of this building.
2- Karachi Goan Association
Goan Association Hall is an attraction that still plays a vital role in Karachi's social sight. It is located at the empress market Saddar, Karachi. The hall in no time became a hub of the social life of Goans in Karachi. You can see a statue of Mr. Cincinnatus in the hall. He had been the President of the Karachi Goan Association for a long time and has a residential area to his name, Cincinnatus Town Now called Garden. It arranges different events for the community. At the start, it did not have a boundary wall and it graced the nearby area. At its crest, it held ten days of celebrations where the pinnacle Goan bands performed.
3- Frere Hall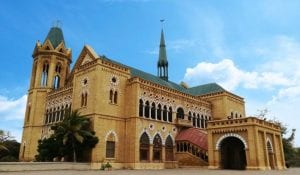 Frere Hall is situated in Saddar Town, Karachi. This building is one of the oldest historical places of Karachi which was established by the British when they rule the subcontinent. The construction process of this building takes place in 1863 and the Frere hall was entirely constructed by the year 1865. In the time of British rule, Frere Hall was the center of Karachi's civilizing activities. This building is shaped very delightfully with red and grey sandstone from Jungshahi. Frere house has a massive library on the ground floor and an art gallery full of attractive paintings. The library is known as Liaquat Ali Khan library, the first Prime Minister of Pakistan.
4- Mohatta Palace
It is a Historical attraction situated at Hatim Alvi Road Karachi which was built in 1927 by Shivratan Mohatta, a victorious Marwari businessman of his time. This palace is based on a true love story. The designer of this stunning piece of art was Agha Ahmed Hussain. The wife of Shivratan was struggling with a serious disease and the doctor suggested her to live in a place where revitalizing winds of sea passes. So his husband Shivratan determined to build this huge attractive palace near Clifton so that her wife sickness can be cured.
5- Chaukhandi Tombs
The Chaukhandi Tombs located near Karachi, Pakistan are an exceptional example of such burials. Buried south to north – strange for the area and time period – These tombs are built with enormous sandstone slabs, which are precisely arranged in a finessed pyramid shape.
These tombs are well-known for being one of the most visited sites in the region. Built among the 15th and 18th centuries, these Tombs now form an extraordinarily well-preserved necropolis that grabs the visitor's attention.
6- Mazar-e-Quaid
Mazar-e-Quaid is situated in the Jamshed Quarters area of Karachi. This is the final resting place of Quaid-e-Azam, the founder of Pakistan. The construction of this tomb was finished in the 1960s. It is considered as an iconic figure of Karachi throughout the world. Mazar-e-Quaid is one of the most famous visitor destinations among foreign people. It is in the center of Karachi with a calm and relaxing location that can be easily seen from miles at night time. The ceremonies of defense force normally take place here on particular events, like as on 23 March (Pakistan Day), 14 August (Independence Day of Pakistan).
7- Denso Hall
Denso Hall is a library that was constructed in 1886. It is located at the corner of M.A. Jinnah Road and Murad Khan Road in Saddar Town, Karachi. This was the first library for the people of Karachi, intended by James Strachan. Jahangir Kothari Building is at one side of Denso hall while the other side is covered with attractive structures. The renowned Marriott Road is at the backside of the library which also carries many historic structures. The area is easily reachable from all parts of Karachi.
8- Empress Market
Empress Market is located in Saddar, Karachi. It was constructed between 1884 and 1889 in the British Raj period. The foundation block of this market was laid by James Ferguson in 1884, the Governor of Bombay. A lot of people from all over Karachi come to this market for shopping, even though its location in one of the most crowded areas of the city. It is the most well-liked and busy place for shopping in Karachi and mirrors as one of the few historical destinations of the city.
9- The Merewether Clock Tower
Merewether Clock Tower is a stylishly Designed tower in Karachi. This tower is between MA Jinnah and II Chundrigar road. It was particularly made as a tombstone for Sir William L. Merewether, who served as Commissioner of Sindh for 10 years. The Tower is on a platform 44 feet square with a height of 102 feet. The clocks are 70 feet from the position where each of the clock's four faces is seven feet in width. The larger bell at the apex announced hour mark whereas the smaller bells range at each quarter.
10- Edward House Karachi
Edward House is one of the famous Karachi heritage buildings. It was designed by a renowned Jewish architect Moses Somake in 1910. Edward house is located at Abdullah Haroon Road.  The structure has fine massing, outstanding balconies like projections, large rooms and the doors with a remarkable central tower that will make you sense friendliness for this almost a decade old piece of construction.