Pakistan is a hidden gem not fully uncovered by the international tourists' community. However, with the help of local travel vloggers, the image of Pakistan has definitely changed compared to what it was a couple of years back. Now, finally, Pakistan has gained some attraction from the international community and foreigners are coming frequently to see the beauty that Pakistan has to offer. Compared to the cities of Pakistan, Kashmir and Northern areas are more popular among the foreign tourists. Natural beauty attracts everyone equally although some might want to visit historical places or see old cities and their amazing architecture, most prefer having to visit a place which is surrounded by nature and the peaceful environment. The main attraction of Pakistan's northern side is amazing green valleys, High Mountains, beautiful lakes, beautiful rivers, healthy weather, and natural rich wildlife. Given the need to improve tourism further, we have to make use of what is available to us and make it better. The only way to improve tourism in Pakistan is to create more awareness in people abroad. To uncover this beautiful country, we have selected a list of 30 most beautiful places of Pakistan in order to provide you a glimpse of what Pakistan has to offer and why it is famously known as heaven on earth.
Although there are several other places to explore that are beautiful and filled with an amazing experience, here we provide you our chosen 30 places which will make you curious enough to visit at least one time.
Nathia Gali
Nathia Gali is located in the heart of Khyber Pakhtunkhwa, Pakistan and currently among the best places to visit in Pakistan. Its scenic beauty and the tracks for hiking are among the most loved characteristics of Nathia Gali. Another plus point is that Nathia Gali is in close proximity to Murree.
Daman-e-Koh
Daman-e-Koh is a hilltop garden located in the north of Islamabad. This gem of a place is a viewing place in the heart of Margalla Hills and provides an amazing view of Islamabad at 2400 ft above sea level. The name Daman-e-Koh is composed of two Persian words that translate to foothills.
Neelum valley
Neelum Valley is from Kashmir Region. Located in the north of Muzaffarabad and it is parallel to Kaghan Valley. However, Neelum Valley is quite different because it had mountains covered in snow at 4000 meters above sea level.

Naltar Valley
Located near Hunza, Gilgit Baltistan, Naltar Valley is famous for its lakes which are crystal clear and it the best part is, it is in close proximity to Hunza. Naltar Valley is known for its delicious potatoes and the sceneries which is why it is known as paradise on earth.

Shangrila resort
Shangrila Resort is located along the lower Kachura Lake providing a breathtaking taking view of the Karakoram mountain range. It is also close to Skardu at just 18km distance.

Mubarak Village
Mubarak Village is also called Mubarak Goth. Located in Kiamari Town of Karachi, it provides amazing shore of Arabian Sea in the West district of Karachi. This place is also nearby Hawksbay which is famously known for green sea turtles.

Ranikot Fort
Ranikot Fort is among the historical places of Sindh and is closely located to Hyderabad. It is known for being the world biggest fort in terms of circumference at approx. 32km. Also, if you want to see all of Ranikot Fort, you might want to use a 4 wheel jeep.
The Gorakh Hill Station
Pakistan's all four provinces are filled with natural beauty. Similarly, the province of Sindh is blessed with the Gorakh Hill station. With amazing beauty and natural scenery, this place is worth a visit. It is located at just 95 KM from the famous city Dadu. It is also called "The Paradise of Sindh".

Kund Malir Beach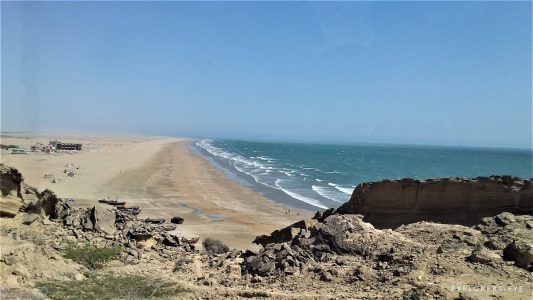 Located in Balochistan, Kund Malir is a beautiful beach loved by the locals. It resides within Hingol National Park and about 150 kilometers from Zero-Point on Makran Coastal Highway.
Kund Malir' is a beach in Balochistan, Pakistan located in Hingol National Park, about 150 kilometres from Zero-Point on Makran Coastal Highway. The drive between Kund Malir and Ormara is considered to be scenic. The area is part of Hingol National Park which is the largest in Pakistan.

Mohenjo-Daro
Mohenjo-Daro, This historic place was built in 26th century and was the largest city of Indus Valley Civilization. With remarkable engineering and planning, this was definitely the most advanced city of its time. If you are into history, this place will make you happy.

Kumrat Valley
Located in the upper part of the Dir district, Khyber Pakhtunkhwa province, Pakistan, Kumrat Valley is loved by many tourists (foreign and local) due to its snow covered mountains.

Mabali Island
Mabali Island is a beautiful place to visit. It is located at the Khanpuk Lake near Taxila. A must visit!

Babusar Top
From North of Kaghan Valley, Babusar Top is located 150 km away connecting to Thak Nala and the Karakoram Highway.

Baltit Fort
Baltit Fort, Located in the beautiful Hunza Valley near Karimabad, this northern site is one that should not be missed. It was founded in 8th CE and in 2004, it was included in the UNESCO World Heritage Tentative list.

Ansoo Lake
Ansoo Lake is also called Ansu Lake which translates to 'tear' lake. This lake is in the shape of a tear drop which is why it is a beautiful sight to see. It is located in Kaghan Valley at an altitude of 4,245 metres above sea level.

Neelum River
Neelum River is divided into India and Pakistan. It starts from Indian administered Jammu and Kashmir and ends at Pakistan's Muzaffarabad.

Kel
Kel is located in close proximity of Muzaffarabad, near the LOC at 155 km distance. However, try to go here in summer because in winter the routes are blocked because of snow.

Ratti Gali
Ratti Gali, It is located in Neelum Valley, Azad Kashmir, Pakistan at an altitude of more than 12,000 ft. definitely a sight worth seeing!
Taobat
Located in Neelam Valley, Azad Kashmir, Pakistan at 200 km from Muzaffarabad and 39 km from Kel. Taobat is the final station of Neelam Valley.

Khunjerab Pass
It is on the border of Pakistan and China, situated in the Karakoram Mountains. Khunjerab Pass

Shogran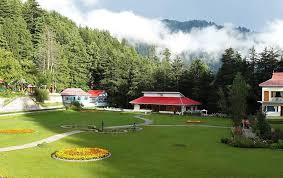 Shogran is located in the Kaghan Valley, at a height of more than 2000 metres above the sea level. It is also near Balakot at just 34 km distance. The view is breathtaking and picture-perfect!
Naran
This beautiful town Naran is from Kaghan Valley of Mansehra District of KPK province. Its location is pretty good because it is located just 119 kilometre from Mansehra city. At an altitude of 2,409 metres, this town will you fall in love with its nature and beauty.
Kaghan Valley
Kaghan Valley is a breathtaking valley of Mehsehra District in KPK province of Pakistan. This valley is most famous among the tourists and has further potential for more tourism. The valley is 155 km long and the highest point of the valley is Babusar Pass at more than 13000 ft.
Siri Paye
Siri Paye, It is definitely not easy to access with steep roads however, it's totally worth the trouble. Is a high mountain lake at a height of 10,032ft above the sea level, located in the Khyber-Pakhtunkhwa province of Pakistan.
Fairy Meadow
It was named Fairy Meadow by German Climbers which is locally known as Joot. It is a grass land near Nanga Parbat located in Gilgit-Baltistan, Pakistan.


Lulusar
Lulusar, or Lalusar, is group of mountain peaks and a lake in the Kaghan Valley in the Khyber-Pakhtunkhwa province of Pakistan.

Attabad Lake
Attabad Lake is situated within Gojal Valley Hunza, Gilgit Baltistan which an administered area of Pakistan. The lake was created after the disaster of 2010 in Attabad.

Malam Jabba
This place has one of the two ski resorts in Pakistan. The other resort is at Naltar, Gilgit-Baltistan. Malam is 17km from Manglor which is one of the many small villages that Malam Jabba has. Other villages include Salanda, Jehanabad, Talegraam, Badar, Ser, Malam, Kishora and Spine Oba.

Hunza Valley
Hunza borders with Wakhan Corridor of Afghanistan and the Xinjiang region of China. It is a valley filled with beautiful mountains in the region of Gilgit-Baltistan. You shouldn't miss this!
Ziarat
Located in the province of Balochistan, Ziarat is a city and the capital of Ziarat District. The famous Quaid-e-Azam Residency is also there in the valley.