Resorts are normally found in far away and remote locations because they offer a natural atmosphere to sense the beauty of nature. They are mostly seasonal in nature. There are various types of resorts available in every country classified on the basis of location. The most famous variety of resorts are beach resorts, hill resorts, ski resorts, golf resorts, lake resorts, luxury resorts, and tropical resorts. The rooms at the resorts normally have all the required services including a restaurant, bar, swimming pool, wellness center and many more. All of them need specific planning and development to become renowned in that area.
There is a big list of famous resorts all over Pakistan. We have mentioned some of the appealing resorts in Pakistan, where you can have fun with your friends and family.
Dreamworld Resort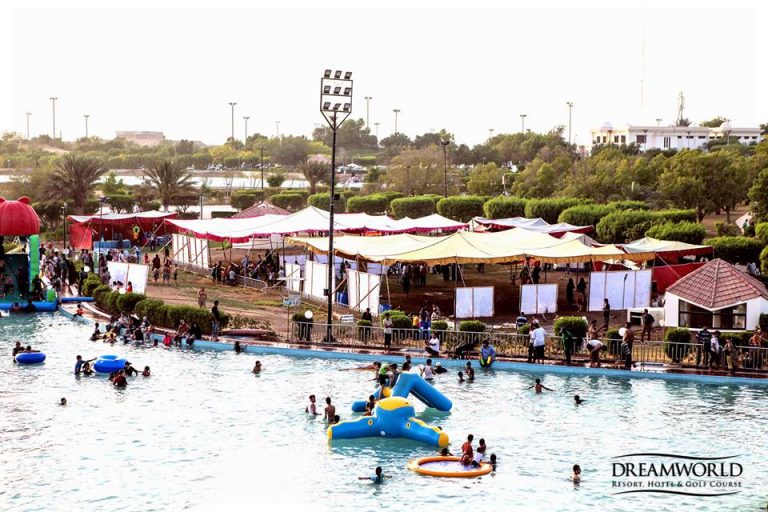 Dreamworld Resort Hotel & Golf Course was built in the year 1996. This fascinating place is adjacent to Gulshan-e-Maymar, off main Super Highway. It covers an area of around 150 acres. The key objective of this resort is to provide a variety of fun activities and social get together to the people. It has more than 160 facilities to its registered members which makes them feel like living in a world of dreams. This resort is no doubt a great place for you and your family to revitalize your mind and get rid of all the tensions.
Lakeside Resort
Lakeside is one of the biggest resorts in Karachi. It covers an area of around 100 Acres. This is a perfect place for a picnic with friends and family/ wedding occasions/Birthday celebrations, Guesthouse, family get-together, and movie shooting. They offer private units of 2 acres to each customer that has two air-conditioned bedrooms, attractive kitchen, swimming pool, garden, water slide, grounds, indoor games and a lot more in it. There is also an in-house restaurant with top quality food facilities in the resort.
Home Pluss Resort
 Home Pluss resort is in Lahore. It is just 20 min away from Lahore airport. It has three different varieties of rooms, standard room, executive room, and the VIP room. These rooms are well furnished with all the essential services like Cable TV Network, Telephone Extension, Fully Stocked Refrigerator, and Internet Access. There is also a conference room for the meeting having a capacity of around 50 persons at a time. This room is equipped with excellent computers Internet, Printer, Fax and Photocopier services. It is one of the best places to plan a picnic with your family.
Maisonette Hotels & Resorts
Maisonette hotels and resorts are in Lahore. It has three different categories of rooms including an executive room, deluxe room, and 3-bed apartments. All the rooms are fully air-conditioned with led TV, satellite cable, free Wi-Fi, minibar and built-in safe. It has the latest gym with all the necessary equipment and six specific meeting rooms with the facility of around 30 people for gatherings. Dinner facility is also there on the top where you can get a massive variety of cuisines like Pakistani, Chinese, Italian and continental.
Arcadian Hotels and Resorts
Arcadian Hotels and Resorts have three attractive resorts in the northern areas of Pakistan. The first one is arcadian Sprucewoods which is in Shogran. It is an excellent place for couples and families to enjoy quality time. The second resort is arcadian Riverside which is in Khanian. It is close to Islamabad. This resort offers six different varieties of rooms to choose from, and the last one is arcadian Blue Pines which is in Murree. This resort has four types of room facility including standard twin, luxury twin, deluxe suite and luxury suite.
Highland Resort
Highland resort is near Islamabad. The trip towards this inspiring resort is itself so worthwhile that it enhances the overall beauty of the Resort. The room facility of this resort is exceptional. It has a massive lounge for relaxation after dinner. A fascinating conference hall is also in this resort where you can set up events like wedding ceremonies and so on. There is also a specific child play area, swimming pool, gymnasium and indoor games facility in the resort which really adds a lot to the overall worth of this resort.
Sachal Mir's Village Resort
Sachal Mir's Village Resort is 20 min away from Islamabad. It is a perfect place to have some fun after an exhausting work week. The resort offers various services including free WIFI, telephone, laundry, round trips, on-call doctors and many more. The resort offers a massive range of wellness and remedial therapies which makes it prominent among other resorts. It is an ideal place to welcome the attractiveness of nature and to explore the astonishing Margalla Hills like never before.
Mahgul Restaurant and Resort
Mahgul Restaurant and Resort is positioned on the maximum peak in the Galiyat region. It has around twenty-seven big rooms that are fully operational with all modern services like dish TV, instant geysers, individual heating units, and speedy internet. The rooms are specifically intended to give an impressive view of the valley. You can calm down by having a walk in the nearby national park and can experience the local wildlife in its normal environment. It is a nice place to have fun in any season.
Rock City Resort
Rock city resort is a luxurious resort in the center of Mingora Kalam Road, Fizaghat, Kpk. The resort covers an area of around 120 canals with more than 26 rooms in it. It offers two different types of rooms including a family suite and standard double. The family suite is for families which have all the necessary facilities that a family can expect from an outstanding resort while the standard double room is ideal for couples to have fun in this eye-catching resort. The resort has a nice restaurant as well where you can enjoy a massive variety of food like Pakistan, Chinese, continental and traditional.