There are only a small number of cities in the world that offers a superb combination of modernity and history. Lahore is one of these cities which is called the most impressive historical cities. This city is the provincial capital of Punjab and also the cultural capital of Pakistan as well.
In this article, we have listed 10 best historical places in Lahore that should be visited by everyone who is interested in history.
Kos Minars were made by Mughal emperors in the 16th century. The Kos Minar is a hard round pillar approximately 30 feet in height that stands on a stonework platform which is built with bricks and covered with lime. The pillars were having a horse, rider & a drummer to broadcast messages among these pillars with speed & clarity. Though not architecturally very inspiring, being milestones, they were an essential part of communication and travel in a huge empire.
Get Details and Directions for Kos Minar
Iqbal Museum is situated on a historical road of Lahore in Garhi Shahu. From one side you can see this beautiful museum while the Cairns Railway Hospital can be viewed at other site. Very amusingly, this museum was declared a Pakistani national monument in 1977 and later in 1984 the government modifies its name to Iqbal Museum.
This museum has a lot of handwritten drafts of Iqbal's works, photographs, certificates, letters, awards, medals and educational degrees. There is also a library and nine galleries in the museum as well.
Get Details and Directions for Iqbal Museum
Chauburji means four towers. It is one of the most well-known monuments between the structures and buildings of the Mughal period in the city of Lahore, Punjab, Pakistan. It is a combination of Mughal architecture with antique Muslim style of building. This sort of tower is the only one in the whole sub-continent. Its main characteristics are the minarets which expand from the top. The red brickwork is distinctive of the Muslim buildings and the doorways running through the inner corridors are an illustration of the Mughal living style.
Get Details and Directions for Chauburji
Mochi gate is locally called as Mochi Darwaza. Word Mochi in Urdu means cobbler that indicates that this area might be the shoe market in the past. Another story associated with this gate is that the name of this gate was Moti gate in the Mughal period. Moti was a security guard who looked after the gate all of his life. Afterward, Moti name was misrepresented and became Mochi. It is also famous for the dried fruit, kites and firework shops. The area surrounded by this gate is so crowded that it sometimes not possible for two or more people to walk in the street together.
Get Details and Directions for Mochi gate
Nisar Haveli is located inside Mochi Gate. It was built in the 18th century. This haveli is an icon of Sunni-Shia unity because people of this area show value for the religious occasion. It is an attraction not only for the Muslims but the non-Muslims as well before the partition of the subcontinent. The Haveli has the architecture of Mughal time. The major wooden gallery of the Haveli grabs the attention of the visitors at first sight. The interior of the building also has Persian poetry admiring the family of Prophet Muhammad (peace be upon him).
Get Details and Directions for Nisar Haveli
The name 'Lahori' comes from the word Lohar which means Blacksmith in Urdu and this is the main cause the gate is called Lohari because in the history it used to be the housing area for many blacksmiths. It is one of the 13 gates of Lahore which is highly enriched of conventional and old bazaars. The gate steers towards the narrow streets market where the merchants sell costly and radiant gemstones. It is not only famous for gemstones but also has one of the best local food shops. People with interest in jewelry, gemstones and metal work can really enjoy this area for shopping.
Get Details and Directions for Lahori Gate
Bhatti Gate is given the name of an ancient Rajput tribe known as bhattis. The most famous market here is the Hakiman wali bazar which is renowned for various Hakim shops. There is also a museum located near Bhatti gate, where you can see many ancient remains of different old times. The great philosopher Allama Mohammad Iqbal RA old house is also in Bhatti gate where he lives during graduation. The Victorian school which is given the name of Queen Victoria is also located here.
Get Details and Directions for Bhatti Gate
Pani Wala Talab is located in Lahore Pakistan. It is an astonishing structure of water supply and magnetism for tourists, which was built by a British Governor in 1884 to produce water for the linked areas. It is one of the oldest and remarkable historical places which should be visited by everybody. 
Get Details and Directions for Pani Wala Talab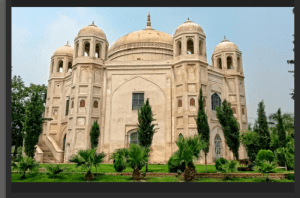 Anarkali tomb is an octagonal Mughal tomb in Lahore which is round in shape and roofed by a superior dome. The tomb once enclosed by a garden known as Anarkali Garden, but in the last couple of hundred years, it has been put to numerous uses. Under the Sikhs, it was occupied by kharak Singh. In the British rule, it was transformed into Church in 1851. A few years later, it was rehabilitated to St. James' cathedral in 1857 till 1891. After that, it has been used as Punjab Archives Museum with an astonishing treasure for those involved in the history of British Punjab.
Get Details and Directions for Anarkali tomb
Sheesh Mahal is located in Lahore Pakistan. It is a work of art that reminds Mughal time. The word Sheesh is called mirror while Mahal means Palace. It is a stunning structure in the Royal castle of Lahore city which was a specifically intended area for the Royal Family. Costly stones and the fountains were also placed in it with premium quality mirrors that were used in its beautification with white marbles.
Get Details and Directions for Sheesh Mahal