After the security situation in Pakistan became quite good, tourism has started to rise in Pakistan. In terms of trade as well, the future looks bright. The Gwadar and Khunjerab Pass is being used for several trade goods. Hopefully, Pakistan will be an economic hub and we can't wait for that day to come!
Thanks, many foreign travelers, Pakistan has received international recognition for its beauty and food. The foreign travelers all enjoyed their time in Pakistan and have conveyed the message to the international community that Pakistan is a beauty and safe country to travel. Here are our top 15 attractions of Punjab province that are must visit when you are in Pakistan.
1) Badshahi Mosque
One of the best attractions in Punjab is the Badshahi Mosque. This is the 2nd biggest mosque of Pakistan built by Aurangzeb – a Mughal Emperor in 1673 A.D. It contains religious artifacts as well as ancient ones for those interested in its history. Tourists enjoy this attraction as it has a unique feel to it. Since this mosque is located in the heart of Lahore, tourists can easily come and enjoy this beautiful mosque and all of the histories it has to offer. Currently, it is the 8th largest mosque in the world.
2) Minar-e-Pakistan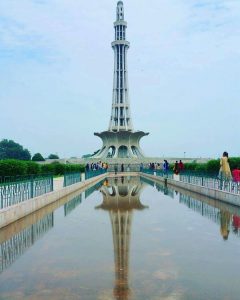 This Minar was built as a commemoration of Pakistan's freedom. This spot is where the Lahore Resolution was passed which was delivered by none other than our founder, Quaid e Azam Muhammad Ali Jinnah on 23rd March 1940. Since then, it has become a symbol of freedom and hope for the people of Pakistan and we hold it very close to our hearts. This too is located near Badshahi mosque, so tourists can view both of Lahore's beautiful places within the same proximity.
3) Tomb of Jahangir
Present in the outskirts of Lahore, the Tomb of Jahangir is in a class of its own. Offering beautiful architecture, historic landmark, and monument, the tomb of Jahangir is another place which provides tourists with the historic beauty of Punjab province. Jahangir – who was a Mughal Emperor, was buried here in the year 1627. Jahangir and Nur Jahan, his wife loved this location when they visited Lahore which is why their tomb was built here.
4) Khewra Salt Mine
Khewra Salt Mine has located 245 km from Lahore and it is located 288m above the sea level. Located in Jhelum, this salt mine is the 2nd biggest in the world and offers great tourism prospects. A must visit!
5) Katas Raj Temple
Located 16 km from the district of Chakwal, the Katas Raj Temple has a lot of history to offer. It is a combination of total of 7 temples; however, the oldest one was built in the 6th century and the architectural beauty offers is mind-blowing. The Holy pond between these temples is held sacred for Hindus.
6) Wagah Border
Wagah border is probably the most fun and thrilling experience for any tourist in Punjab. I would go as far as to claim that if you visit Punjab and didn't go Wagah border to see the ceremony, your trip would be incomplete. The intensity of this ceremony is out of this world where every day before sunset, the flag of India and Pakistan is lowered. The whole ceremony is 45 minutes in total, but trust me, you won't regret it.
7) Derawar Fort
This is a fort that is sustained beautifully and is located 100 km from Bahawalpur. If you ever go to the Cholistan Desert, Derawar Fort is a must-visit the place. It was built by Rai Jajja Bhati – a Hindu Rajput.
8) Noor Mahal
Noor Mahal or Noor Palace is one of the best attractions in Pakistan. Its location is in Bahawalpur and it was built more than 150 years ago. The palace contained precious things that were being taken out of the country which is why after 1999, the Pakistan Army took responsibility for the Noor Mahal and restored it. In 2001, the government declared Noor Mahal a protected monument of Pakistan.
9) Rohtas Fort
This fort was built by Sher Shah Suri – Afghan King, in the 16th century. It took good 8 years to complete the fort and it is still maintained for tourists to come and see the historical value Rohtas Fort has to offer.
10) Shalimar Gardens
Shalimar Gardens is located in Lahore which also known as the city of gardens and history due to the historical monuments and parks it has to offer. These gardens were built by Emperor Shah Jahan who loved natural beauty.
11) Wazir Khan Mosque
This part of the world was ruled by Muslim Mughal emperors this is you will find many beautiful mosques all over the subcontinent. Wazir Khan Mosque also offers historical beauty that leaves even architects of today in awe of its magnificent structure.
12) Faisal Mosque
This one is my personal favorite. Faisal Mosque is the largest mosque of Pakistan and among the biggest mosques of Asia. Located in Islamabad, it was built with a blend of ultramodern and traditional architectural design styles. It can contain 100,000 worshipers at a time. The cost was covered by King Faisal of Saudi Arabia as a gift.
13) Darbar Mahal
Located in Bahawalpur, this royal palace was built by Bahawal Khan, for his wife. The Mahal was completed in 1905 and it is controlled by the Pakistan Army and is not currently open for the general public. However, just the view from outside will leave you speechless.
14. Kallar Kahar
Situated 25km from Chakwal, Kallar Kahar lies in Punjab province. It is famous for beautiful species of peacocks and beautiful natural garden guaranteed to amaze you.
15) Taxila Museum
Located 35km from Islamabad, Taxila city is where the Gandhara exists. The Gandhara art is displayed in Taxila Museum and it's good for tourists who want to see ancient history.
16) Abbasi Mosque
Made with exquisite marbles, Abbasi Mosque was built in 1849 by Nawab Bhawal Khan. It is a replica of the Moti Mosque in Delhi.