2020 has just begun and people have already started their new year with many different resolutions of things they want to achieve this year. Travelling is one activity that everyone should have on their to do list as it is a great stress reliever and the overall experience of travelling is quite unique but then again – people have different opinion. For those who love travelling, they are lucky to be living in a country like Pakistan which is blessed with beautiful locations and breathtaking views. Even now, there is so much more to discover about Pakistan and the more you travel, the more you realize how beautiful this country really is. New Year is the perfect opportunity for you to plan vacations throughout the country and manage your work so you can have some quality time traveling amazing places. Here, we compiled a list of top 30 places that you should consider for your tours in Pakistan. Let's get started!
White Palace Swat
The white palace of Swat was constructed back in 1941 during the era of Swat state. This palace is breathtakingly beautiful and lies in the Swat district just 12km away from the Mingora city. This place normally has many visitors from all over Pakistan and also overseas with many coming to witness its beauty while others visit for its historic importance. No matter what the reason is, white palace remains a popular tourist destination and it should be on your New Year's travel list. You can visit this beautiful palace in summers or winters – particularly after snowfall, the views of this palace are just out of this world!
Gojal Valley
The Gojal Valley has great importance because it borders with Afghanistan and China at Khunjerab at an elevation of more than 15000 feet above the sea level. Gojal Valley remains covered with snow through the year and it is extremely beautiful. Gojal Valley is also close to Chiporsun that borders Afghanistan's Wakhan region. In total, Wakhan is six square miles as far as area is concerned after that, Tajikistan starts. The route from Pakistan to China through the Karakoram Highway goes through Gojal Valley and then enters China.
Deosai Plains
Deosai Plains is situated on 4000 meters above sea level and it is surrounded by Karakoram and Himalayas (west side). Out of 12 months, Deosai remains covered with snow for almost 8 months. However, the remaining months, this place has beautiful flowers in different ranges. There are no tree in this plateau which is spread over 3000 sq. km. Deosai Plains also contains one of the highest lakes in the world which is – Sheosar lake. You will be in awe of the beauty thanks to the deep blue water with snow-covered mountains in backdrop, and greenery with wild flowers in foreground. It will definitely be an experience you can't forget.
Rama Meadow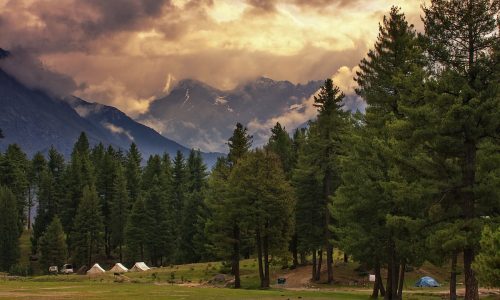 Rama Meadow is located near Rama Village which is approximately 11 km from Astore. Rama Meadow is a scenic and amazing Meadow. This beautiful Meadow is filled with cold milky-white water flowing in streams. Furthermore, if you find yourself surrounded by cows and sheep and amazing pine trees you are probably in Rama Meadow. As an added bonus you can see Nanga Parbat's southern ridge when you are in Rama Meadow.
Ayun and Bamburet Valley
Ayun Valley is located in the village of Chitral at just 12 kilometres from Bamburet. This village is surrounded by break taking mountains and after Ayun Valley, Bamburet Valley begins which is one of the famous three Kalash Valleys. Bamburet Valley is located two hour journey from Chitral.
Bahawalpur
Bahawalpur is a famous city of Pakistan known for its princely history and treasure of old historic buildings that give you a glimpse of the past. It also contains lush green parks and historic monuments that are hidden gems of the city. Bahawalpur is located along side Sutlej River and also contains desert areas that won't disappoint you.
Hiran Minar
Hiran Minar means Deer Tower in Urdu. It is a Minar build in Sheikhupura in the era of Jahangir – a Muslim Emperor. This Minar was made in the memory of his favorite pet Antelope. This complex was mainly used for hunting purposes by the royals at the time and it was built in 1606.
Lulusar
Lulusar is situated near Kaghan Valley in KPK province of Pakistan. Lulusar contains beautiful snowy mountains and a dreamy lake nearby. The Lalusar Lake is one of the most beautiful lake of Pakistan it is most famous for snowy mountains that never dry even in summer. The lake is clear and has a mirror life reflection of the beautiful mountains of Lalusar.
Upper Neelum
Upper Neelum is located just 2 and half kms from Keran. Neelum Valley is known for its beauty, the upper Neelum village. It contains beautiful green sceneries with wildlife and wild fruits, leaving visitors in awe of its beauty. You can also view entire occupied Kashmir from the Upper Neelum, which adds to its importance.
Shounter Lake
Shounter Lake is a beautiful lake situated in the Valley of Shounter which itself falls under Neelam Valley of Azad Kashmir, Pakistan. It is located at a height of 3100 meters and contains breathtaking views of mountains and glaciers.
Khunjerab Pass
Khunjerab Pass is possibly one of the most famous places of Pakistan. It is famous for being the highest elevated border in the world. Khunjerab Pass connects Pakistan's border with China and it is located in the Karakoram Mountains of Gilgit-Baltistan. Due to this reason, it is extremely popular and continues to gain tourists from all over the world. If you ever visit northern Pakistan, you must visit Khunjerab Pass.
Saiful Malook
Saiful Malook is famous for its jaw-dropping beauty as it is located between the mountains. Its location is quite convenient because you can travel from Naran to visit this beautiful mountainous lake. This is definitely in the top 5 best lakes to visit in Pakistan and you should not miss it.
Ansu Lake
Ansu translates to tears and this lake is in a shape of a teardrop that's how its name came to be Ansu Lake. It's a beautiful lake located in very famous Kaghan Valley of the Mansehra District, KPK. Its altitude is more than 4200 meters above the sea level and it is renowned for being the highest elevated lakes in the Himalaya Range.
Kalam
Kalam Valley is in Swat valley which is a guarantee that it must be exceptionally beautiful. Places in Swat Valley never disappoint tourists and its location is close to Mingora in the province of KPK.
Bolan Pass
Narrow gorges and stretches produce this beautiful Bolan Pass and it is just 120 km away from Afghanistan border. The total length of this pass is almost 89km and it located alongside Bolan river valley from Rindli to Darwaza near the north side of Kolpur.
Margalla Hills
Margalla Hills is home to many beautiful birds such as Himalayan griffon vulture, paradise flycatchers, kestrel, shrikes, black partridge, Indian sparrow hawk, golden oriole and many other different types. Its location is in Islamabad – making it quite a popular spot for tourists especially for its beauty and nature.
Lahore Jallo Park
Lahore Jallo Park was established back in 1978 in Lahore in order to give the people of Lahore some wildlife attractions. It is one the best three wildlife parks in Lahore the others are Zoo Safari and Changa Manga. As far as area is concerned, it one of biggest parks in Lahore at about 461 acres and contains many different facilities such as Forest Research Centre to Wildlife Breeding Centre, restaurants, coffee shops, sports complex, theme park, swimming pool and a large fish lake. Recently, a new attraction in Jallo Park is all new Butterfly House.
Bahria Town Karachi
Definitely the largest housing community of Pakistan with offices in different cities. Bahria town has successfully made its name in providing people of Pakistan, the highest quality of accommodation and houses so beautiful you wouldn't want to leave. You can book a free tour for Bahria town Karachi with top attractions being top attractions like wide Cricket Stadiums, Themed Park, Hyatt Regency Hotel, Grand Jamia Mosque, Day Night Safari, outstanding Golf Courses, and world-class hospitals.
Emporium Mall
Emporium Mall is a gigantic shopping mall located in Johar Town of Lahore. Its area is more than 1.8 million square feet and contains 11 floors in total. Here you can visit unlimited shops and stores (more than 200) and you can also stay at a five-star hotel which is also inside this mall.
Madyan
Madyan is a popular hill station, located at a distance of about 55 kilometres from Mingora, in the Swat District of Khyber Pakhtunkhwa the Province of Pakistan.
Katas Raj Temple
Katas Raj Temple is locally known as Qila Katas and it is a complex constructed with many Hindu temples inside that connect with each other through various pathways. The temple goes through the water known as Kataj which is considered to be sacred. For Hindus, it is definitely a site to visit in Pakistan as its importance is quite high being a part of Mahabharata as well.
Hussaini Hanging Bridge
Hussaini Hanging Bridge is famous known as the world's most dangerous bridge due to its rickety cable and planks. The entire bridge is hand made by the locals and is a convenient way to cross the high-pressure river. People who like to experience thrill and adventure on their travels come here to feel the real adrenaline rush. Many planks along the bridge are broken or missing and the strong winds shake the bridge as you try to face your fears while crossing this bridge. It is really a bridge to try if you are up for the challenge.
Ancient City of Taxila
Taxila carries huge importance in terms of being an ancient site and a gem for archaeologists. It is located in the modern city now at 32 km from Islamabad nearby Grand Trunk Road. Ancient Taxila was situated at the pivotal junction of the Indian subcontinent and Central Asia.
Shingrai Waterfall
Shingrai Waterfall is also known as the roaring waterfall. The locals of Swat Valley however, call it Shingrodand. The waterfall has a depth of 70 feet which provides a big difference between the water leaving the waterfall and time at which water touches stones on the ground. This creates the roaring sound which the waterfall is famous for.
Ship breaking yard of Gadani
Gadani is located just 50 km from Karachi and it contains Pakistan's biggest ship breaking yard and also the world's 3rd largest ship breaking year. Its length is about 10 km and it is stretched out on a beachfront at Gadani.
Takht i Bahi
Takht-i-Bahi is mostly mispronounced as Takht-i-Bhai. It is located in Mardan area of KPK, Pakistan and provides tourists with great Indo-Parthian archaeological site of Buddhist monastery of the past. It has been well preserved due to its being the most imposing relics of Buddhism in all of Gandhara.
Thalpan Petroglyphs
If you travel by road from Islamabad, you will definitely come across Chilas which is a town. When you leave the town of Chilas, just by the highway you will find a vast display of engravings of inscriptions, religious motifs and many more. You can even see most of the stone carvings from the road however, to discover many more hidden Petroglyphs, a good way is to walk into the mountains. Some of these carvings are nearly 2700 years old, making it an ancient gem.
Liaquat Bagh
Official known as Liaquat National Bagh, this park is quite famous in Rawalpindi. It is located on Murree Road and contains some what painful memories because Two past Prime Ministers of Pakistan Mr. Liaquat Ali Khan and Benazir Bhutto have been assassinated in this park.
Murree
Murree is a resort town sitting on a mountain in the Galyat region. Murree is nearby Rawalpindi District of Punjab and also Islamabad at almost 30 km northeast of Islamabad. The altitude at which Murree sits is of 2,291 meters, producing beautiful scenery and chilly weather.
Hawkes Bay Beach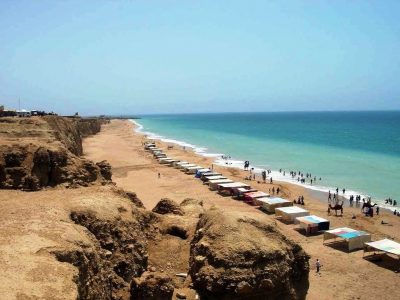 Hawkes Bay was names after Bladen Wilmer Hawke who used to live there at his beach house back in 1930. He mostly used it for weekend however with the passage of time many others also joined in building houses. You can reach this beach through Mauripur Road or the Mubarak Goth Road. It is very famous among the people of Karachi however, many people from all over the country visit Hawkes Bay Beach.