Pakistan has all seasons in a year which truly is a blessing. On average, mid-October brings winter until the end of February. Pakistan consists of amazing places that enhances winter season's beauty. Pakistan also has sights of beautiful snow landscapes which are famous tourist spots. Every winter, the demand of certain places increase especially because of snowfall and the amazing views that Pakistan's nature has to offer. Here, let's look at the top 10 places to see snowfall in Pakistan. You should keep these places on your list of to travel and enjoy the beautiful weather along with northern areas' traditional cuisines.
Skardu
Skardu is located alongside Indus and the Shigar River. Its altitude is approx. 8,200 feet and it's the capital of Skardu District of Gilgit-Baltistan. The mountains of Skardu are breathtaking and they have grey-brown color. The mountains are so huge that they completely hide the Karakoram Range that stands at 8000 meters.
Kalash Valleys – Chitral
Chitral is an amazing tourist destination however the one major attraction that stands out from the rest is the Kalash Valley of Chitral. The name Kalash came from a primitive pagan tribe known as Kafir-Kalash (translated as "Wearer of the Black Robes"). Kalash Valley is beautiful with its sceneries and amazing snowfall – which is the most important trait of Kalash Valley. Altitude of Kalash Valley is around 5000 to 7500 feet. Kalash Valley consists of three distinct and beautiful valleys known as Brir, Rambur, and Bumburet. You can travel all these valleys through a jeep and during winter, you can play the traditional sport of this amazing place, which is snow golf.
Malam Jabba – Swat Valley
Mallam Jabba of Swat Valley is special because it has the only ski resort in Pakistan. Malam Jabba is a hill station in the Karakoram Mountain and has Saidu Sharif of Swat Valley, in close proximity. The ski resort of Malam Jabba is an experience you must have because the slope is nearly 800 m and the slope's peak is at 9200 ft. above the sea level, making it a thrilling experience for all. Here you can also find modern equipment such as chair lifts, rollers and snow clearing equipment. It is also good for people interested in other religions to explore, as Malam Jabba has 6 monasteries located in different locations around the resort.
Leepa Valley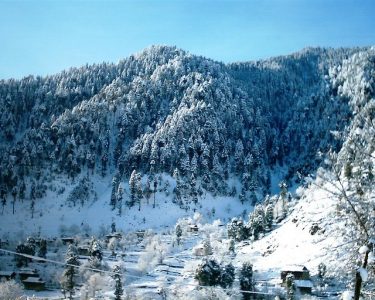 Leepa Vallery provides tourists with a beautiful valley of Azad Jammu & Kashmir. The natural beauty of Leepa Valley is quite famous because it has gorgeous views and the presence of nature is quite amazing. The mountains are covered with beautiful pine trees creating amazing scenes for tourists. If you are near Muzaffarabad then it is just 105 km distance to Leepa Valley.
Hunza Valley
Hunza Valley is situated at the North West side of the Hunza River. It is elevated at 8,200 ft. and also among the famous tourist spot for Gilgit-Baltistan. It is surrounded by beautiful mountains such as Ultra Sar, Rakaposhi, Bojahagur Duanasir II, Ghenta Peak, Hunza Peak, Passu Peak, Diran Peak and Bublimotin (Ladyfinger Peak).
Ziarat
Ziarat is known for Juniper tree forest, which is the world's second-largest Juniper tree forest – making it the extremely natural place of Pakistan. Tourism doesn't stop here and its popularity is constant in summers as well as winters. The area is well wooded and provides a beautiful view from the top altitude of 8050 feet. The Juniper trees are pretty old, around 5000 years to 7000 years making it a picturesque place to visit.
Nathia Gali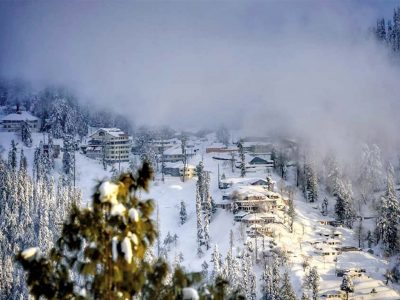 Nathia Gali is a common spot for tourists, in winter as well as other seasons. Since it is a mountain resort in Hazara, KPK its scenic beauty is second to none. It is famously referred to as the best snowfall spot in Pakistan. Naturally, it is the most favorite and popular tourist areas of the Murree Hills. Nathia Gali is situated in the middle of Murree and Abbottabad – just one hour's drive from both places. Its spots are famous in summers as well because the weather here remains cool and foggy throughout the year. In autumn, however, winds are much colder. If you are a fan of really chilly winter weather and snowfall, you should definitely go there.
Peer Chanasi
Peer Chanasi is located at a height of 9593 feet above the sea level which makes the weather quite chilly and during snowfall it provides a beautiful tourism spot. It is located in Muzaffarabad and it is also the most famous tourist spot in the city. It is famous for summer and winter both and provides breathe taking views with amazing climate – a definite spot to visit for those who love nature.
Murree
Murree, even in 2019 remained one of the most popular tourist destinations of Pakistan. Originally it was a hit station where people used to visit only for summers however, with the passage of time Murree has become famous for winters as well and has tourists flooding from all over the world to capture its beautiful views.
Kel Valley
Kel Valley is situated in the Neelum Valley of Azad Kashmir. It is just 155 kilometers away from Muzaffarabad and has an altitude of 6879 feet. Kel Valley has a special charm that attracts tourists. It is famous for snowfall and it should be on your travel list.