We all should keep ourselves physically healthy if we want to achieve our everyday jobs with an ease that has some significance in our lives. A lot of people might think that they don't require sticking together a fitness club as they can carry out various workouts on their own to be healthy. But this actually doesn't work out as they are short of awareness that is required to be implemented. Health clubs are basically very helpful to improve supreme performances and a nice place to make some new friends.
We have listed the top 10 gyms in Pakistan to make sure you get the best place for a workout in this country.
Studio X
Studio X is one of the best health and fitness club in Karachi. It was established in the year 2003 in a three-story building. The first floor is dedicated to yoga where a certified trainer is available for proper yoga classes. The second floor is all about indoor cycling activities whereas the third floor deals with a variety of cardio exercises. The main objective of studio X is to make sure that clients get the most inclusive fitness program with the help of qualified professionals and the most up-to-date equipment.
Shapes
It is one of the top names in the health and fitness industry in Pakistan. It is particularly designed to keep up with the latest requirements of its customers. They strongly believe that exercising should not be for any specific group of people but it ought to be a healthy activity for everyone. It is the only health club all over Pakistan with an in-house trainer certification program that helps the training fitness instructors through a range of topics like CPR, Human Anatomy, Physiology, Kinesiology, Functional Training, and Fitness testing and more.
Structure
Structure is a health and fitness center with branches in Karachi and Lahore.  This gym is equipped with certified personal trainers for proper classes. It has all the latest equipment including separate tv on all cardio equipment, swimming pool, sauna, Jacuzzi, showers and locker rooms. The staff of this gym is attentive and well-informed which makes you feel the motivating and intense environment. It is an excellent place to relax and enjoy the exercise for better health.
Club M
Cub M Fitness gym is in Shahra-e-Faisal, Karachi. This gym provides quality service along with most modern equipment & certified professional trainers. It is a renowned gym in this city because a lot of Pakistani celebs such as Fahad Mustafa, Soniya Hussain, and Osman Khalid Butt come to this place for fitness activities. It is built on a huge 4-floor building, the second floor is having all the stuff related to cardio, the Third floor is a major attraction for weightlifters and the Fourth for is for a get together where you can enjoy the sauna, steam room, Jacuzzi & spa facilities to calm down those yourself after a workout.
Sukh Chayn
Sukh chain wellness club is in Gulberg Lahore. It is one of the most well-liked health clubs in the Lahore. They arrange various fitness activity sessions from professional trainers which are helpful and highly valuable for those looking to lose some extra weight and stay fit. Their trainers are considered as the first in Lahore to bring in a high-intensity workout challenge. The gymnasium is also full of the latest equipment so that clients can enjoy their workout effectively.
Executive club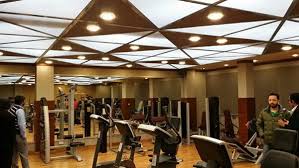 Executive club is in F-10/4 Islamabad. This health club offers a welcoming, sanitized and high-energy environment with the objective to motivate people having a more improved, active and fit way of life. The gym provides specific group classes for ladies on aerobics, yoga, circuit training, etc. It has high-tech equipment for a range of different exercises with proper changing rooms, showers, sauna and steam room to make sure you don't find any trouble while doing exercises. There is also a cafe with meals and refreshments in this gym to have some energy after a workout.
Fitdiction
Fitdiction is one of the most excellent emerging Fitness Company in Islamabad that offers pioneering fitness solutions to its esteemed customers with the objective to endorse health & fitness responsiveness among different people. They have a professional team of well-trained experts who arrange live fitness programs that are innovative and result oriented. Fitdiction not only provides exercise classes but also helps in creating nutrition plans for all the members to stay fit and healthy.
Bodyonix
Bodyonix is a fitness club in F-10, Islamabad. The training staff of Bodionix is very frank and has skills in each individual field. The management of this gym arranges various video training sessions with a proper library section having literature on the linked subjects. Special classes of aerobic and yoga are also arranged for the ladies members. Home coaching facility is also there in the fitness club for those who cannot make it to the gym. Also for kids, specific classes for Martial Arts are also arranged.
Core
Core is a fitness gym in Clifton, Karachi which is a fun and thrilling place for a workout. It is designed in such a way that it offers a truly exceptional fitness environment. The key objective of this gym is to build a strong foundation and help the clients to achieve their best by helping them without class training from experts. It is highly equipped with proper machines and also with qualified nutrition consultants to guide you towards a proper health plan.
Smarts
Smarts is a fitness club in F-7 Markaz Islamabad. This gym offers almost everything in a single place. The lavish gym is equipped with up to date machinery, swimming pool, and Jacuzzi. This gym arranges group classes from the top fitness trainers of Pakistan. The yoga classes are taken by a certified professional that can be availed by all age group people. There are also specific classes for ladies regarding full-body workout to make sure they also participate in these healthy activities.