A valley is a low area between hills or mountains often with a river running through it. In geology, a valley or dale is a depression that is longer than it is wide.
Pakistan is also known for its beautiful valleys, A greenery that resembles A heaven on Earth, valleys in Pakistan is a tourist attraction and visited by tourists from all over the world. Meanwhile, we have figured out few of them that will surprise most of Pakistani as well.
01- Gilgit Valley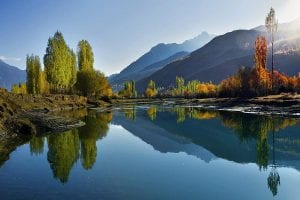 The Gilgit Valley is among one of the most popular valleys of all time, it's provided for by the Gilgit river and calls Gilgit (hence the name) it's home. Snowy mountain peaks and then blazing sun combined with the grassy plains. It's God's heaven.
Get details and directions for The Gilgit Valley
02- Hunza Valley
This valley sets its root in the extreme northern part of Pakistan, specifically in the region Gilgit-Baltistan. This mountainous heaven is beauty redefined, a tourist spot as well as a home to many farmers.
Get details and directions for Hunza Valley
03- Jhelum Valley
This scenic portion of beauty is in the HattianBala District, Azad Kashmir, Pakistan. Lush green sceneries are surrounding this nature's heaven, this valley is very advanced and has many facilities that tourists can avail to. From a five start hotel to a range of restaurants. The roads are clean and are made as beautiful as one can possibly manage.
Get details and directions for Jhelum Valley
04- Urak valley
The Urak Valley is 21 kms away from Quetta City. The road is lined on either side with wild roses and fruit orchards. Peaches, plums, apricots and apples of many varieties are grown in this valley. The waterfall at the end of the Urak Valley, which is full of apple and apricot orchards, makes an interesting picnic spot.
Get details and directions for Urak Valley
05- Swat Valley
Swat valley is one of the major tourist attractions of Pakistan. It is known as the Switzerland of Pakistan, it has one of the oldest civilizations in history and one of the beautiful scenery one could ever see.
Get details and directions for Swat valley
06- Leepa Valley
Leepa Valley is located 45 kilometers (28 miles) from Muzaffarabad. Aza Kashmir Pakistan.
A fair-weather road leads towards Leepa from Nail [about 45 kilometers (28 miles) from Muzaffarabad] which inclines over Reshian Gali 10500 feet (3200 meters) high and then it descends to 5500 feet (1677 meters) into the Leepa Valley. The valley has many wonderful touristic scenes. Leepa is the most fascinating and charming place for tourists in Azad Kashmir. The one who visits this valley cannot easily come out from the magical stance of the beauty of this valley. The green mountains of the valley are full of pine trees and present a charming and picturesque view to visitors. In the whole season of winter, the Leepa Valley stays covered within the blanket of snow. This valley remains open for the domestic tourists only between May and November.
Get details and directions for Leepa Valley
07- Ishkoman Valley
The Ishkoman River joins the Gilgit River at Gakuc,.Gilgit. The natural beauty of the valley makes it a popular tourist destination.
The Ishkoman valley, running north to south to join Gilgit, separates the Karakoram mountain range from the Hindu Kush. Incorporated into Pakistan in 1972, Ishkoman was vassal principality of Chitral in recent centuries and the ex-Raja of Ishkoman still lives in the capital, Chatorkhand. Most people speak Khowar, Shina, and Wakhi. It is about 100 kilometers to Chatorkhand, reach the Ishkoman valley turnoff, after 68 kilometers, From Chatorkhand public transport goes up the east side of the Ishkoman River through Pakora to the road head a limit. It takes three and half hours drive from Gilgit to Imit and Ishkoman.
Get details and directions for Ishkoman valley
08- Bagrot Valley
Bagrote Valley is a valley in the Karakoram Mountain range in Gilgit–Baltistan.
This valley is known for its fruits and vegetables which it supplies to city Gilgit. Ice from the Glacier is supplied to Gilgit city in summer from this valley, as there is no ice factory in Gilgit. The ice is brought from the Glacier of Karakoram range. The villages of Hamaran, Sneaker, Datuchi, Bolchi, Chirah, Farfu, and Hopay lie here and are interconnected by an unmetalled road.
Villages on either side of the valley are linked via cable cars (allowing for easy transport of goods and livestock) and the river passes underneath which comes from glaciers of Karakoram Range.The means of the economy is agriculture. However, with the recent construction of the Karakorum Highway, the area has been exposed to western civilization, with small cinemas, retail outlets for mountain equipment and apparel, and small hotels opening to facilitate visitors.
Get details and directions for Bagrot Valley
09- Gorikot Valley
Gorikot is the largest valley in the Astore District of Gilgit-Baltistan, Pakistan.
This valley consumes most of the space and is called the largest valley of Astore district. Its local name is Gue and the incredible place is home to many government official headquarters now. Dingot and Gyunrike are some of the small villages in the Chorbat valley.
Get details and directions for Gorikot Valley
10- Hopar Valley
The Hope Valley is a scenic portion of the Nagar Valley in northern Pakistan. It is about 10 km away from Nagar Khas.
This portion of the mountainous area and a exotic wildlife is the air of hopper and the famous Skantik glaciers. It's truly a sight to behold, for some people the weather can either be too harsh or slightly bearable but the beauty of this valley makes up for everything.
Get details and directions for Hope Valley